HOMEBUILDER GRANT: WHAT IS IT AND WHO IS ELIGIBLE FOR THE $25K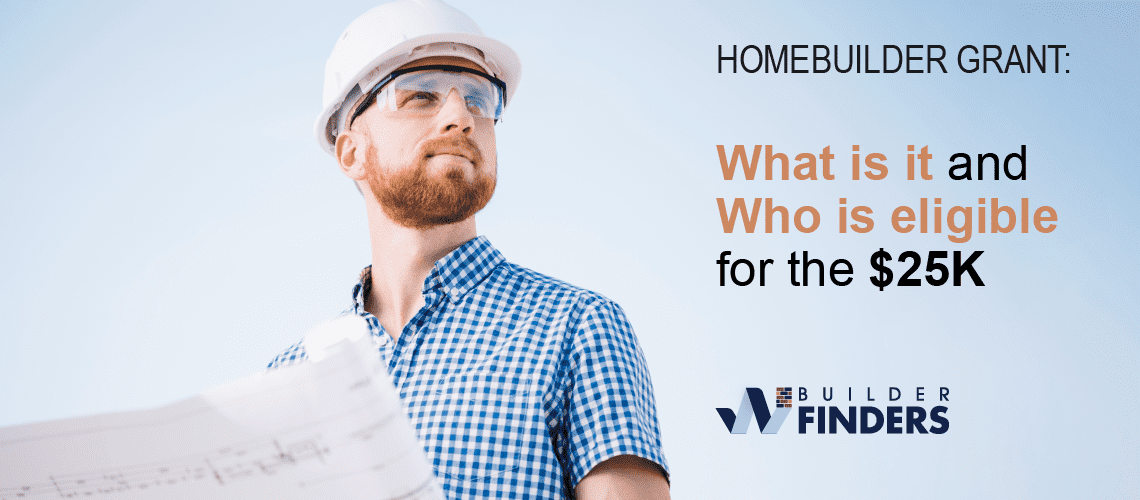 Australians with grand design dreams who are looking to build a new home or renovate their own are set to receive a $25,000 cash grant as the government looks to keep the construction sector building. The $688 million HomeBuilder Scheme will be granted to people who sign contracts to build or substantially renovate their home from Thursday 4th of June 2020 until the 31st of December 2020.
Prime Minister Scott Morrison said that this scheme will drive a "tradie-led recovery" of the economy and support 140,000 direct construction jobs and a million workers in the wider residential building sector, including, architects, materials supplies, manufacturers and engineers. Mr Morrison said that the $25,000 grants would "support those Australians whose dream it was to build their home or to do a big reno.
"If you've been putting off that renovation or new build, the extra $25,000 we're putting on the table along with record low interest rates means now's the time to get started."
Who Is Eligible For The $25,000 HomeBuilder Grant?
Is the $25,000 HomeBuilder Grant open to everyone, or only first home buyers?
The grant is available for new residential constructions and renovations by owner-occupiers, not just first home buyers.
Who is eligible for HomeBuilder?
You must be:
18 years or older
An Australian citizen
An individual, not a company or trust
Individuals must be earning no more than $125,000 based on your 2018-19 tax return or later; or
Couples must have a combined income of no more than $200,000 based on both 2018-19 tax returns or later
You must enter into a building contract between 4th of June 2020 and 31st December 2020 and;
You are building a new home as your principal place of residence with a value of less than $750,000 or
You are renovating your principal place of residence for an amount between $150,000 and $750,000 and
Where the value of your property does not exceed $1.5 million
Note – the construction must begin within 3 months of the contract date
Is the grant open to investors and commercial properties? No, the grant only applies to residential constructions and renovation by owner-occupiers – investors and commercial landlords are excluded.
When can I access the grant? Immediately. HomeBuilder will be available for building contracts that are signed between the 4th of June 2020 and 31st of December 2020.
When will I receive the grant? HomeBuilder grants will be paid by your relevant State or Territory authority.
How can I apply for HomeBuilder? You can apply when the State or Territory Government that you are planning to build in signs the National Partnership Agreement with the Commonwealth Government. Further information will become available through your State or Territory revenue office website.
Here is a list of all State and Territory websites:
VIC, NSW, QLD, SA, WA, TAS, ACT, NT
What documentation will I need to provide? You will need to provide at a minimum –
Proof of identity
Copy of the contract, dated and signed by you and the nominated registered or licensed builder
A copy of the builder's registration or licence
A copy of your 2018-19 tax return
Documents such as council approvals, building contracts or occupation certificates and evidence of the land value
**Does this grant apply to all property types? ** Yes, the grant applies for builds of new homes, house and land packages, apartments and townhouses.
Is the HomeBuilder grant tax-exempt? Yes, the grant is tax-exempt.
Is there a limit to how many people can get the grant? No. HomeBuilder is an uncapped, time-limited grant.
What renovations will be eligible?
The grant will not cover detached structures outside the house such as swimming pools, tennis courts, outdoor spas and saunas, granny flats, garage and shed.
The renovation works must improve the accessibility, safety and liveability of the dwelling
No DIY jobs – the work must be done by a registered or licensed builder, not an owner-builder
Can this grant be combined with existing State and Federal grants and schemes? Yes, this grant can be offered on top of existing State and Federal building grants.
Looking to or buy a new property and take advantage of this scheme?
Now is the perfect time. Builder Finders can help you today. Get in touch on 1300 4 A BUILDER (1300 422 845) to get started.
The good news is that there is no cost to use Builder Finders. We are paid by the builder you have selected.
Building is an exciting time. It can also be a time of great anxiety if you choose the wrong builder. Did you know Builder Finders does not accept every builder. Many builders who apply to join the Builder Finders panel don't make it. There is a 62 step vetting process for builders to join the panel. In addition, the Builder Finders team conducts comprehensive due diligence through reference checks, ASIC searches and CreditorWatch reports to ensure they are not insolvent. You may not be aware that in the last financial year just over 500 builders went bust. Worse still, right now there are builders in financial difficulty that are cutting corners to stay afloat. Fact is, a lot of builders will tell you what you want to hear. Engaging with one of these builders will invariably mean subpar construction of your home. No one wants that.
With Builder Finders, you are in safe hands.
Why risk it? The Builder Finders team have done all the background searches for you. We take pride in knowing our clients are dealing with some of Australia's leading and award winning builders. We understand the services of a builder broker may be a new concept for you. It would be our pleasure to refer customers that have used our services in the past.
Builder Finders are independent builder brokers that assist everything builder related. We are driven by a passion to match the right builder with your unique property building needs. Best of all, there is no cost to you. Contact us now at
1300 4 A BUILDER (1300 422 845)
or send us a message
here
.